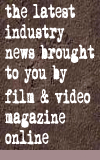 VFX Supervisor Steve Emerson on
Kubo and the Two Strings
On Live-Action VFX Workflow for Animation, Making CG Look Real, and the Largest Stop-Motion Puppet Ever
By Barbara Robertson | Film & Video Magazine | Feb 17, 2017



The Oscar nomination for visual effects in Laika's stop-frame animated film Kubo and the Two Strings is Steve Emerson's first. He joined Laika in 2008 to work as a 2D supervisor for that studio's Coraline, became compositing supervisor on ParaNorman and co-VFX supervisor on The Boxtrolls. Those three films all received Oscar, BAFTA, and Annie nominations for best animated feature. Prior to joining Laika, Emerson worked as a digital compositor on The Matrix Reloaded and The Matrix Revolutions, Transformers, and Beowulf, and has credits on 25 films. He became VFX supervisor on Laika's fourth film, Kubo and the Two Strings. Directed by Travis Knight, Kubo and the Two Strings is also nominated for Best Animated Feature in addition to its visual effects Oscar nomination, Annie and Golden Globes nominations for best animated feature, and a VES nomination for outstanding visual effects in an animated feature. Kubo won the BAFTA film award for best animated feature.

Steve Emerson shares the visual effects Oscar nomination with Laika's Oliver Jones, Brian McLean, and Brad Schiff.

Studio Daily: Why do you think your colleagues in the VFX branch voted for Kubo and the Two Strings to receive an Oscar nomination?

Steve Emerson: As much as this film is a tribute to the Japanese culture and to Japanese woodblock artists like Kiyoshi Saito, it is very much an homage to special effects artists like Ray Harryhausen, Willis O'Brien, Jim Danforth, and the many special effects artists who laid the foundation for the entire industry with the innovations and art form they created, which is stop-motion animation. I think there is an understanding and appreciation for that type of filmmaking within the VFX branch. The skeleton we built for this film was an homage to Ray Harryhausen and Jason and the Argonauts. It's the largest stop-motion puppet ever created...



© 2015-2016 Access Intelligence, LLC


article provided by

Film & Video Magazine






Eaglewing Enterprises has been serving the needs of non-profit organizations, small business, fraternities and sororities, community service groups, churches and ministries, since 1995. Located in Marshfield, Wisconsin, we provide affordable, state-of-the-art, post-production digital editing services. Offering marketing solutions to help promote, inform and inspire those who matter most to the client.





Contact us today for a free estimate and consultation.








Eaglewing Enterprises
706 N Hinman Avenue
Marshfield, WI 54449
715.383.0000
email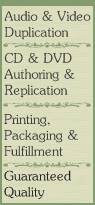 ---

hen I'm told that our films are painful, I think, oh God, I know real pain. We soften our pictures so tremendously. We make them almost romantic fantasies, and just barely touch on these things in a more idealistic way than other people do.

---

©2000
eaglewing-enterprises.com