Non-Profit Organizations




Small Business




Fraternities & Sororities




Community Service Groups




Churches & Ministries




The Video Brochure is an excellent way to present your group to the potential member or sponsor. Personal testimony, leadership statements, ministry profiles, corporate philosophy, live segments of events, community information and other features make the video brochure an effective way to communicate.





Eaglewing Enterprises has been serving the needs of non-profit organizations, small business, fraternities and sororities, community service groups, churches and ministries, since 1995. Located in Marshfield, Wisconsin, we provide affordable, state-of-the-art, post-production digital editing services. Marketing solutions such as the Video Brochure can help promote, inform and inspire those who matter most to the client.



Let Eaglewing Enterprises design a Video Brochure
that meets your objectives and your budget!



Contact us today for a FREE estimate & consultation.





Merchant Credit Card Processing Solutions...




PowerPoint Multimedia Presentation

Eaglewing Enterprises
706 N Hinman Avenue
Marshfield, WI 54449
715.383.0000
E-MAIL US!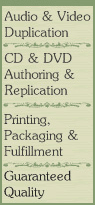 ---
T
o be a film-maker, you have to lead. You have to be psychotic in your desire to do something. People always like the easy route. You have to push very hard to get something unusual, something different.
Danny Boyle
---


©2000
eaglewing-enterprises.com